MTK Droid Tool is an application for Windows PC that helps you to perform various tasks on MediaTek devices such as Android rooting, creating scatter file, taking stock firmware backup and restoring, etc. Also, it can repair your mobile device's IMEI numbers.
Here on this page, we have shared all the tested versions of the MTK Droid Tool along with its previous versions for your convenience.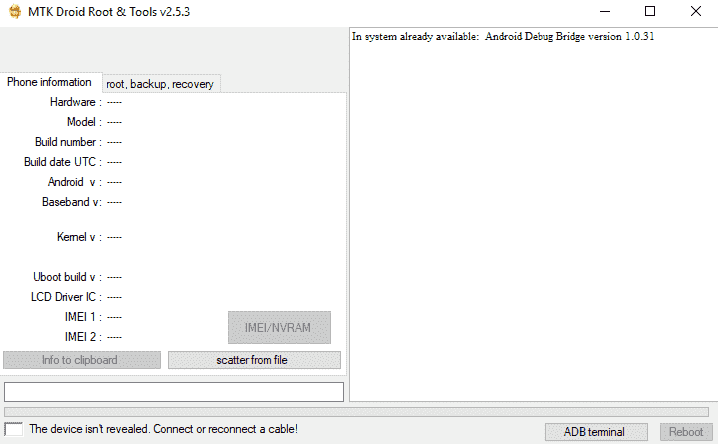 What is MTK Droid Tool?
MediaTek Droid Tool is a small application for MediaTek CPU based device that helps you to perform various tasks on your MediaTek device like rooting Android device, creating a scatter file, backup and restore, etc.
It's developed by MediaTek Inc that helps MediaTek users to root their mobile device in a few clicks only. You can also use this tool to backup the stock firmware (ROM) of your mobile device, as well as restoring the recovery. It's a user-friendly interface to perform any task with it, such as rooting, creating scatter file, taking backup and restoring, etc.
Download MediaTek MTK Droid Tool For Windows 2020
Use the direct link below to download the tested version MTK Droid on your computer. All the following Tools are officially released by the Company, which have been scanned by the Antivirus program.
Additional Information:
Note: For making a backup using the Droid tool requires a rooted Android device so the Stock ROM backup will also be rooted.
Credits: MediaTek Droid Tools is created and distributed by rua1 (Xda developers senior member) thanks to him for creating and sharing such tools with us.
We have reached the end of this article, and I hope all your doubts regarding the MTK Droid Tool are cleared. In case there's still a doubt left then feel free to comment below.