Miracle Box Latest Setup is a simple handy tool for Windows PC that helps you to perform various tasks on your supported device. Such as Android flashing, ByPass FRP Gmail account, Formatting, Unlocking Private Code, restoring IMEI numbers, etc.
Also, the Miracle Thunder Setup is used to fix the software issues, especially of Chinese mobile devices based on supported chipsets.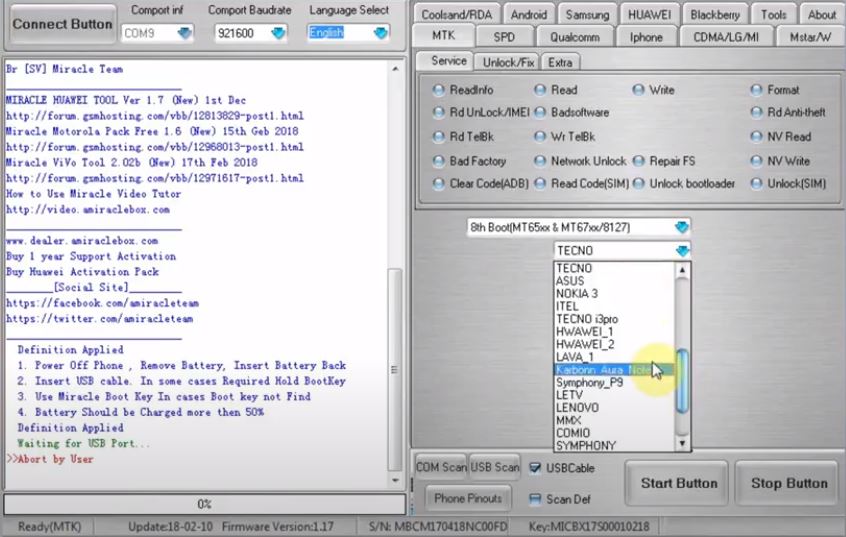 What is Miracle Box Setup Tool?
Miracle Box is a Chinese multipurpose box that supports multiple CPUs like Mediatek, Qualcomm, Spreadtrum etc. Miracle Box is a user-friendly interface to perform any task with it, such as Flashing OS, Formatting, ByPass FRP, write IMEI, repairing network etc.
It's developed by Miracle Team that helps mobile users to flash their mobile device in a few clicks only. You can also use this tool to unlock any security lock.
Supported OS For Miracle Box
Windows XP
Windows Vista
Windows 7 (32 Bit / 64 Bit)
Windows 8 (32 Bit / 64 Bit)
Windows 10 (32 Bit / 64 Bit)
Features of Miracle Box Latest Setup Thunder Edition
Miracle Box Eagle v3.06 Changelog:

MTK Add New Boot for New Mobile.
MTK Fix Read Info.
Qualcomm Improve Write/Format.
Qualcomm Improve Read Phone Info.
MTK/Qualcomm/SPD Add New 40+ Models
Qualcomm Improve some Loader.
Qualcomm Add Loader for New Phone.
Fix Some Bugs.

v2.99 Changelog:

Add Meizu Note8/Note9/X8/16XS/16S Read/Write Support.
Add Meizu Note8/Note9/X8/16XS/16S FRP/Factory Reset Support.
Add Meizu Note8/Note9/X8/16XS/16S Account Remove.
MTK Improve MT6771 for new DA Support.
Qualcomm Add Some Models Auto Support.
Qualcomm Improve Screen Locks Disable / Enable.
Qualcomm Improve EFS Read/Write.
Improved Some Functions for Smooth Work.
Add 100+ New MTK/Qualcomm/SPD Models List.

v2.97 Changelog:

Qualcomm Improve Safe Reset in EDL Mode.
Qualcomm Fix Some Loaders in EDL Mode.
MTK Fix some DA in Download Mode.
SPD Improve SC7720/SC7731G Boot Support
Fix Some Bugs. and added 100+ New Models
Qualcomm Add Vivo NEX/23/Z3 (AT) Factory Reset/Account Remove Support.
Qualcomm Add Vivo NEX S/Vivo NEX/Vivo Z3/Vivo X23.. Factory Reset/Account Remove Support.

v2.92 Changelog:

Qualcomm Add Read Phonebook in EDL Mode.
Qualcomm Add FRP Remove New in EDL.
Qualcomm Improve Auto Identify Loader.
Qualcomm Add Meizu 15 Support.
Android Add Read Sms/Call Logs in ADB.
Android Add Read Contacts/Deleted Contacts in ADB.
Fix Some Bugs.
Add MTK / Qualcomm Add News 50+ Models Support.

Miracle 2.88 without box.

Remove Locks
Dead Phone Flashing
You can repair IMEI Number Using Miracle Box
You Can Flash ROM Using Miracle box
Support all latest RDA/COOLSAND CPU
Able to repair IMEI number with fuzzy logic
Improve Read and Write speed
Bypass Mi account or Mi cloud account using Miracle flash tool
Remove Google Account verification or bypass FRP protection
Reset the face lock
Languages enable
Read and write the EMMC pattern code
Repair the Wi-Fi.
Fix Download mode
Safe Format the device
Miracle Box Thunder Edition Big Thunder Power Released
1. Oppo Add A5s (Meta) Factory Reset.
2. Oppo Add A3 (Meta) Factory Reset.
3. Oppo Add F9 (Meta) Factory Reset.
2. Huawei Improve Enable USB Debug.
3. Huawei Improve Hard Id Remove in ADB Mode.
4. Qualcomm Improve Screen Unlock.
5. Qualcomm Improve FRP and Factory Reset.
6. Improved Some Functions for Smooth Work.
7. MTK/Qualcomm/SPD Add 125+ New Models.
Download Miracle Box Latest Setup (Thunder Edition) 2020
Use the direct link below to download the latest and tested version Miracle Box Setup on your computer. All the following Miracle Box are officially released by the Miracle Team, which have been scanned by the Antivirus program.
How To Setup Miracle Thunder Setup
Here is a video guide through which you can Setup Miracle Thunder on your Computer Without Box.
Final Words
FRP Tutorial: If you are searching a Tutorial to Remove FRP, then follow How to Remove FRP on SPD devices Page using the Android Fastboot Reset Tool.
We have reached the end of this article, and I hope all your doubts regarding the Miracle Box Latest Setup are cleared. In case there's still a doubt left then feel free to comment below.